Elevate Nevada Magazine – December 2020 Issue
Our new hops-infused terpene-rich vapes were just reviewed in the most recent issue of Elevate Nevada Magazine! Our COO Stephanie Magurno discusses our newest vapes and talks about the benefits of hops and cannabis.
You can find the article in Elevate Nevada Magazine on pages 23 – 24. Also, make sure to choose the December 2020 issue. Hope you enjoy it and make sure to try our amazing new vapes – available at fine Nevada dispensaries in Las Vegas, Reno, Henderson, Sparks, Carson City, and more!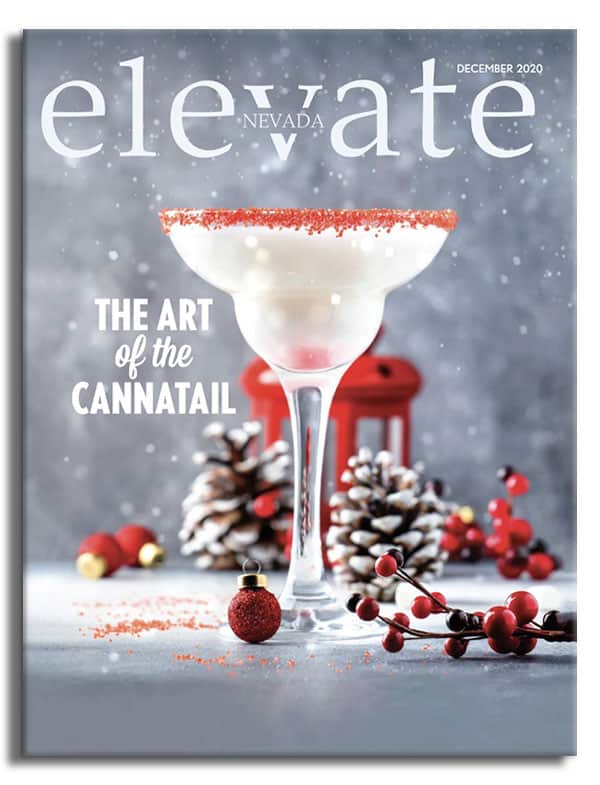 The Article – Great Basin Brewery "Icky" IPA & "Techtonic" IPA From OMG THC
The Perfect Pairing
Perhaps there is no better product for cannatailing than a vape patterned after an IPA. This is the magical creation of OMG THC and Great Basin Brewery, Nevada's oldest craft brewery. They teamed up to create cannabis vapes that have the aroma and flavor of hops without the bitterness.

"Hops are a cousin of cannabis," says OMG THC's Stephanie Magurno. Hops have antibacterial properties and share some of the same terpenes as cannabis. Additionally, hops have a particular compound in them that increases the activity of a neurotransmitter called GABA, which means that hops have a calming effect."

As for the taste of the two Great Basin inspired strains, Tectonic is vibrant on the palate with tropical fruits and citrus flavors, while Ichthyosaur (Icky) has earth, pine, grapefruit, and citrus notes. The predominant terpenes in both are myrcene, humulene, and caryophyllene. The cartridges tend to have 85-92% THC in the oil. The vapes use cannabis distillate, which means any unique identifying characteristics or genetics of the cannabis has been removed. Through the extraction process, the plant is turned into an oil that is only composed of cannabinoids.
The Best of Both Worlds
"Consumers get the best of both worlds – the taste of beer with the effects of cannabis. Consumers have universally said the experience is relaxing without being couch-locked and describe the product as 'very clean'," Magurno says. Additionally, she noted that hops terpenes are extracted in the same proportions from the same varieties of hops used in Great Basin's Icky IPA and Tectonic Event Double IPA.

Another reason to turn to cannabis over cocktails might be a question of economics. "In the case of a cannabis vape cartridge, the consumer has anywhere from 50-150 hits – and a hit has the equivalent effect of drinking a beer or glass of wine. In other words, the initial cash outlay can be greater than a six-pack or bottle of wine, it goes much further," Magurno says.
Learn About Elevate Nevada Magazine
You can more about Elevate Nevada Magazine by visiting their website. You can also follow them on their Instagram, Facebook, and Twitter accounts.
About OMG THC
We're homegrown in Las Vegas, Nevada. We embrace niches others in the Cannabis market ignore or reject. Vegan? Diabetic? Gourmet cook? Old-school hash connoisseur? Looking for a specific ratio of CBD and THC in your products? You got it! We've got you covered!
Additionally, we care about quality and the effects our products have on people's lives & health. OMG THC use only CO2 and ethanol extraction methods. We NEVER use butane or other petrochemicals to extract our oils. We want our products to be easy on the body and safe for our team to make.
Our products are simple and they are great. From the cannabis oils, we use to the packaging and the varieties of our products. Finally, and best of all, our edibles are damn delicious! In other words, if we wouldn't want to eat them, we aren't going to sell them to anyone else. We NEVER cut our concentrates with anything – period! EVER! We use top of the line C-Cell hardware – always. We ensure quality and purity.
For Adult Use Only
OMG THC products are intended for use by and available to adults 21+ and over. Keep our products out of reach of children and pets. Furthermore, be smart about handling and use, and dosage. Be Vigilant. Keep yourself in check. Finally, enjoy our products responsibly and keep everyone safe.
As always, feel free to Contact OMG THC with any questions or comments you might have. We're here for you and we're responsive to your needs. If you'd like to locate OMG THC products, check out our dispensaries list. You can also find out more about OMG THC on Leafly.