"Firelit Haze" Beer-Inspired Cannabis Vape
Here at OMG THC, we have pioneered a great many "firsts" in the cannabis business. One of our favorite ideas was to partner with Great Basin Brewery and infuse the taste of their delicious beer into our cannabis-infused vapes. This is a groundbreaking idea, that has taken the cannabis industry by storm. We have done this by using oil distillate that is infused with the hops and terpenes blends the master brewers at Great Basin Brewery use to brew their beers. And now, we're happy to introduce our newest addition to our vape family, the delicious Firelit Haze IPA!
Firelit Haze – Our Newest Creation
Our newest creation is a vape infused with the delicious Firelit Haze hazy IPA. Firelit Haze is a rich, delicious hazy IPA bursting with tropical fruit, pear, peach, and citrus hops that makes the beer both pop and go down smooth.
Now that the regular IPA beer scene has become a staple of the craft beer menu, hazy IPAs have begun to make their mark. They began their life called New England IPAs, but the term did not keep up with the pace of the market, and "hazy" has now taken on a life of its own. Now you can find one or more "Hazy IPAs" in nearly every bar in America that offers craft beer.
Hazy IPAs
The official Brewers Association classifieds New England IPAs (Hazy's) as the following:
"Emphasizing hop aroma and flavor without bracing bitterness, the New England IPA leans heavily on late and dry hopping techniques to deliver a bursting juicy, tropical hop experience. The skillful balance of technique and ingredient selection, often including the addition of wheat or oats, lends an alluring haze to this popular take on the American IPA."
Our experts at OMG THC have now brought the juicy and tropical taste of the Firelit Haze beer to a cannabis-infused vape. Now you can enjoy the taste of Firelit haze while enjoying a smooth, clean high that comes with our pure cannabis distillate.
Creating the Firelit Haze Flavor Profile
Working with Great Basin's expert Brewmaster Tom Young, we have been blown away by Tom's love of brewing and how he uses all kinds of ingredients to make some of Nevada's favorite beers. Here at OMG THC, we can only try to emulate Tom's brilliance when it comes to crafting the most delicious tastes of beer in our beer-infused vapes.
Our Firelit Haze vape is best when paired with the cold sixpack of Great Basins Firelit Haze beer. And why stop there? Go ahead and order one of their delicious cheeseburgers to go along with your vape, and beer. Our friends at Great Basin Brewery have a full menu of Brewpub food like nachos smothered in beer cheese, soups, salads, pizza, sandwiches, and of course burgers.
The Firelit Haze beer-infused hops THC vape is just one of our signature hops terpenes blended with premium cannabis distillate. We offer most of Great Basin's popular brews in the form of a THC vape. If you live in Nevada, you can find our Great Basin Brewery-inspired vapes at a dispensary near you.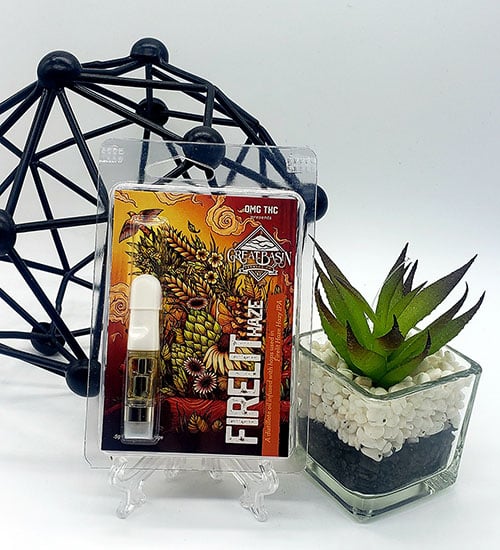 About OMG THC
We're homegrown in Las Vegas, Nevada. We embrace niches others in the Cannabis market ignore or reject. Vegan? Diabetic? Gourmet cook? Old-school hash connoisseur? Looking for a specific ratio of CBD and THC in your products? You got it! We've got you covered!
Additionally, we care about quality and the effects our products have on people's lives & health. OMG THC use only CO2 and ethanol extraction methods. We NEVER use butane or other petrochemicals to extract our oils. We want our products to be easy on the body and safe for our team to make.
Our products are simple and they are great. From the cannabis oils, we use to the packaging and the varieties of our products. Finally, and best of all, our edibles are damn delicious! In other words, if we wouldn't want to eat them, we aren't going to sell them to anyone else. We NEVER cut our concentrates with anything – period! EVER! We use top-of-the-line C-Cell hardware – always. We ensure quality and purity.
For Adult Use Only
OMG THC products are intended for use by and available to adults 21+ and over. Keep our products out of reach of children and pets. Furthermore, be smart about handling and use, and dosage. Be Vigilant. Keep yourself in check. Finally, enjoy our products responsibly and keep everyone safe.
As always, feel free to Contact OMG THC with any questions or comments you might have. We're here for you and we're responsive to your needs. If you'd like to locate OMG THC products, check out our dispensaries list. You can also find out more about OMG THC on Leafly.