Sugar-Free Milk Chocolate Bars??
Yup! We're excited to announce our new offering! We officially have 100mg sugar-free milk chocolate bars available for sale! Our sugar-free dark chocolate bars have been a huge hit. So we got to thinking… why not milk chocolate too? We've brought the best of both worlds together. Delicious quality milk chocolate and THC… all without the sugar! This is big news for any chocolate lovers who need to watch their sugar intake but aren't fans of dark chocolate.
This delicious milk chocolate bar is infused with 100mg of THC from high-quality solvent-free cannabis distillate. Each delectable hand-made chocolate bar contains 10 delightful 10mg doses! Enjoy them alone or share them with your friends and family.
Oh, and if you know other people who love edibles but avoid them because of the sugar, please spread the word. This is the product they've been looking for. After all, we do what we do for the little guys. The people the cannabis market tends to forget about. So give our new sugar-free milk chocolate bar a try and let us know what you think on Google and Facebook!
Get Your Hands on Our Sugar-Free Milk Chocolate Bars
If you'd like to find out where you can purchase our new sugar-free milk chocolate bars, check our products page. If you're a product buyer and you'd like to bring our sugar-free milk chocolate bars to your Nevada dispensary, please contact your regional sales rep for more information. Additionally, you can view our LeafLink menu for more information and pricing.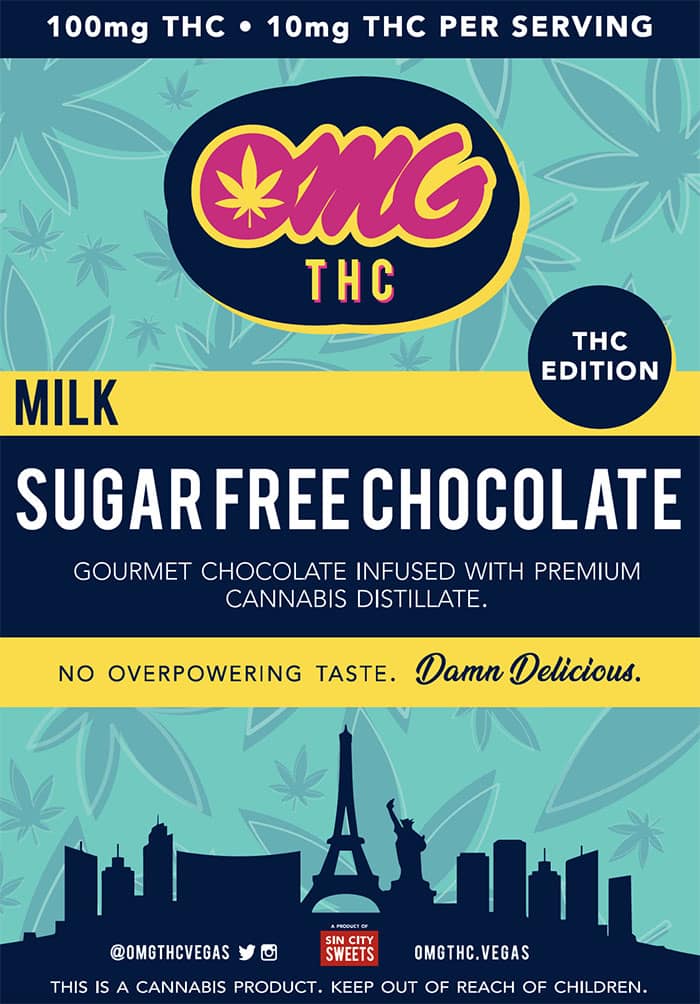 About OMG THC
We're homegrown in Las Vegas, Nevada. We embrace niches others in the Cannabis market ignore or reject. Vegan? Diabetic? Old-school hash connoisseur? Looking for a specific ratio of CBD and THC in your products? You got it! We've got you covered!
Additionally, we care about quality and the effects our products have on people's lives & health. OMG THC use only CO2 and ethanol extraction methods. We NEVER use butane or other petrochemicals to extract our oils. We want our products to be easy on the body and safe for our team to make.
Our products are simple and they are great. From the cannabis oils, we use to the packaging and the varieties of our products. Finally, and best of all, our edibles are damn delicious! In other words, if we wouldn't want to eat them, we aren't going to sell them to anyone else. We NEVER cut our concentrates with anything – period! EVER! We use top of the line C-Cell hardware – always. We ensure quality and purity.
For Adult Use Only
OMG THC products are intended for use by and available to adults 21+ and over. Keep our products out of reach of children and pets. Be smart. Be Vigilant. Finally, enjoy our products responsibly and keep everyone safe.
As always, feel free to Contact OMG THC with any questions or comments you might have. We're here for you and we're responsive to your needs. If you'd like to locate OMG THC products, check out our dispensaries list. You can also find out more about OMG THC on Leafly.