"Leave No Trace" Beer-Inspired Cannabis Vapes
Great Basin "Leave No Trace" THC vapes are now available from OMG THC through our exclusive new line of unique cartridges. At OMG THC we strive to bring innovation and imagination to the legal cannabis market. We are a proud home-grown Nevada-based business, so naturally, we were thrilled at the opportunity to collaborate with the legendary Great Basin Brewing Company for our new line of vape cartridges.
We love the complex and earthy flavors that Great Basin Brewing Company delivers with their one-of-a-kind brews, and think they are the perfect muse for our new line of products. The Leave No Trace vape draws its inspiration from Great Basin Brewing Company's Alpine Lager which shares the same namesake.
Inspired By Craft Alpine Lager
Our Leave No Trace vape cart shares the same flavor profile as its alpine lager inspiration: clean, crisp, and with a spicy, herbal, mildly woody kick. These flavor profiles come through thanks in part to the presence of the terpene Humulene which is present in both the cannabis plant and hops; one of the primary herbs used in brewing beer. Humulene is also present in herbs like black pepper and ginseng. This terpene is partly responsible for the uniquely earthy, and mildly floral aromas that both cannabis and hops share. Humulene is one of the predominant terpenes in beloved cannabis strains such as Headband and Deathstar.
Formerly classified as a-caryophyllene, humulene is a sesquiterpene that is named after Humulus lupulus, also known as the hops plant. Both hops and cannabis are members of the same taxonomic family, Cannabaceae, so creating vape cartridges inspired by lagers that are rich in hops is a natural progression of fantastic ideas.
According to Leafly the therapeutic effect of humulene has been the subject of several modern biomedical research studies which have looked at its actions in herbs such as black pepper, hops, and ginseng. Research has shown that Humulene has effective anti-inflammatory and antibacterial, properties. Additionally, it has also been shown to be an appetite suppressant.
Inspiring Beers Make Inspiring Vapes
Leave No Trace is inspired by Great Basin Brewing Company's award-winning Alpine Lager. Its flavor is reminiscent of the crisp refreshing air of the Sierra Nevada Mountains. Brewed in the time-honored Bavarian style this lager was awarded Gold in the 2021 USA Beer Ratings in the pale malty European Lager company.
At OMG THC we highly respect Great Basin Brewing Company's commitment to sustainability and feel aligned with their mission to leave this planet better than we found it. We admire this company's zero-waste protocols; of either composting hops that have been brewed or donating them to local Nevada farmers to use as animal feed. We also love the Great Basin Brewing Company partners with the Pacific Crest Trail association. For every Leave No Trace Lager that is purchased, they make a donation to help preserve the beauty of this national treasure.
How Do We Make Leave No Trace Vapes?
We extract the same hops terpenes found in Leave No Trace Lager to make our premium distillate oil. The combination of 7.5% hops terpenes combined with top-grade cannabis, plus our ceramic cell cartridge provides an unforgettable vape experience.  With great airflow for a clean taste, you can expect to feel blissfully elevated. Our Leave No Trace Vape Cartridges are a wonderful treat to enjoy before hiking the many beautiful trails that surround the Great Basin.
Enjoy with its namesake lager or on its own, either way, please use both responsibly. We know these cartridges will be a customer favorite and just another example of how OMG THC is putting Nevada on the map for some of the most innovative and unique cannabis products available on the market today.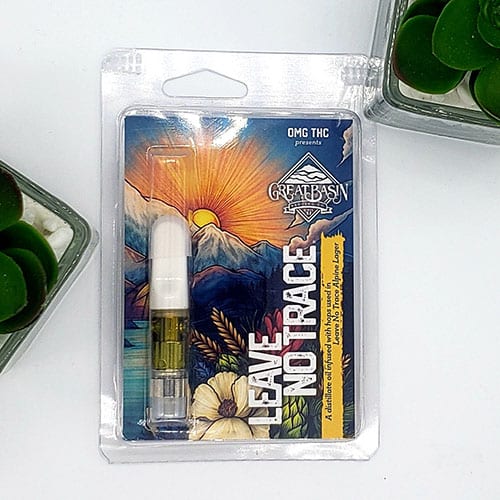 About OMG THC
We're homegrown in Las Vegas, Nevada. We embrace niches others in the Cannabis market ignore or reject. Vegan? Diabetic? Gourmet cook? Old-school hash connoisseur? Looking for a specific ratio of CBD and THC in your products? You got it!
Additionally, we care about quality and the effects our products have on people's lives & health. OMG THC use only CO2 and ethanol extraction methods. We NEVER use butane or other petrochemicals to extract our oils. We want our products to be easy on the body and safe for our team to make.
Our products are simple and they are great. From the cannabis oils, we use to the packaging and the varieties of our products. Finally, and best of all, our edibles are damn delicious! In other words, if we wouldn't want to eat them, we aren't going to sell them to anyone else. We ensure quality and purity.
For Adult Use Only
OMG THC products are intended for use by and available to adults 21+ and over. Keep our products out of reach of children and pets. Furthermore, be smart about handling and use, and dosage. Be Vigilant. Keep yourself in check. Finally, enjoy our products responsibly and keep everyone safe.
As always, feel free to Contact OMG THC with any questions or comments you might have. We're here for you and we're responsive to your needs. If you'd like to locate OMG THC products, check out our dispensaries list. You can also find out more about OMG THC on Leafly.