Are you on the keto diet or just looking to cut some carbs out of your average pizza experience? Are you looking to elevate your cannabis consumption game and take edibles to a whole new level? What could be better than infused pizza? Infused cauliflower pepperoni pizza to be exact!
This 10mg THC-infused personal pan cauliflower pepperoni pizza is sure to please anyone lucky enough to indulge in its stoney, cheesy glory. This simple yet delicious recipe using our Soul D'licious Infused seasoning was submitted by budtender Jessica Walker and purchased at Planet 13 Dispensary in Las Vegas. It was so awesome, we had to share it with everyone. And shoutout to Jessica for yet another amazing recipe!
PREP: 15 MINS COOK: 30 MINS SERVES: 1 THC: 2.5/PIECE, 10MG/TOTAL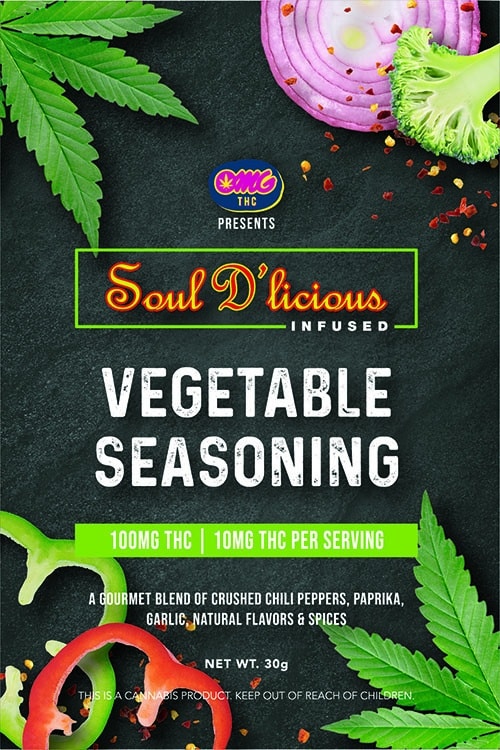 Crafting Your Infused Personal Cauliflower Pepperoni Pizza
Ingredients:
2 cups riced cauliflower
1-1/3 cup shredded mozzarella cheese, divided
¼ cup grated parmesan cheese
1 egg
½ tsp Italian seasoning
¼ tsp salt
½ cup tomato or pizza sauce
10 slices pepperoni
1 Soul D'Licious Infused Vegetable Seasoning packet (10mg)
Directions:
1) Preheat the oven to 450 degrees.
2) Place riced cauliflower in a plastic bowl & microwave for 10 mins, stirring halfway through. Let cool. Using either a paper towel or cheesecloth, strain/squeeze out as much water as possible from the cauliflower.
3) Return riced cauliflower to the bowl and add 1/3 cup mozzarella cheese, parmesan cheese, egg, Italian seasoning & salt.
4) Form cauliflower mixture into a circle, about ¼" thick onto a parchment-lined baking sheet.
5) Bake for 10 mins, flip over & bake for an additional 10 mins. You must bake the crust before adding toppings so don't miss this step or you'll end up with a soggy pizza!
6) Remove from oven and reduce oven temperature to 350 degrees.
7) In a small bowl, mix tomato/pizza sauce with 1 pre-pack of Soul D'Licious Infused Vegetable Seasoning. Spread evenly on top of cooked cauliflower crust.
8) Top with remaining mozzarella cheese & pepperoni slices.
9) Bake at 350 degrees for 7-10 minutes or until cheese is melted.
10) Cut into 4 slices & enjoy!!!
If you'd like to read about other cannabis cooking recipes using Soul D'licious Infused seasonings, check out our spice & recipes page and experience them all for yourself! You can even submit your own recipe ideas on the page as well. So what are you waiting for? Get to cooking and get to eatin'!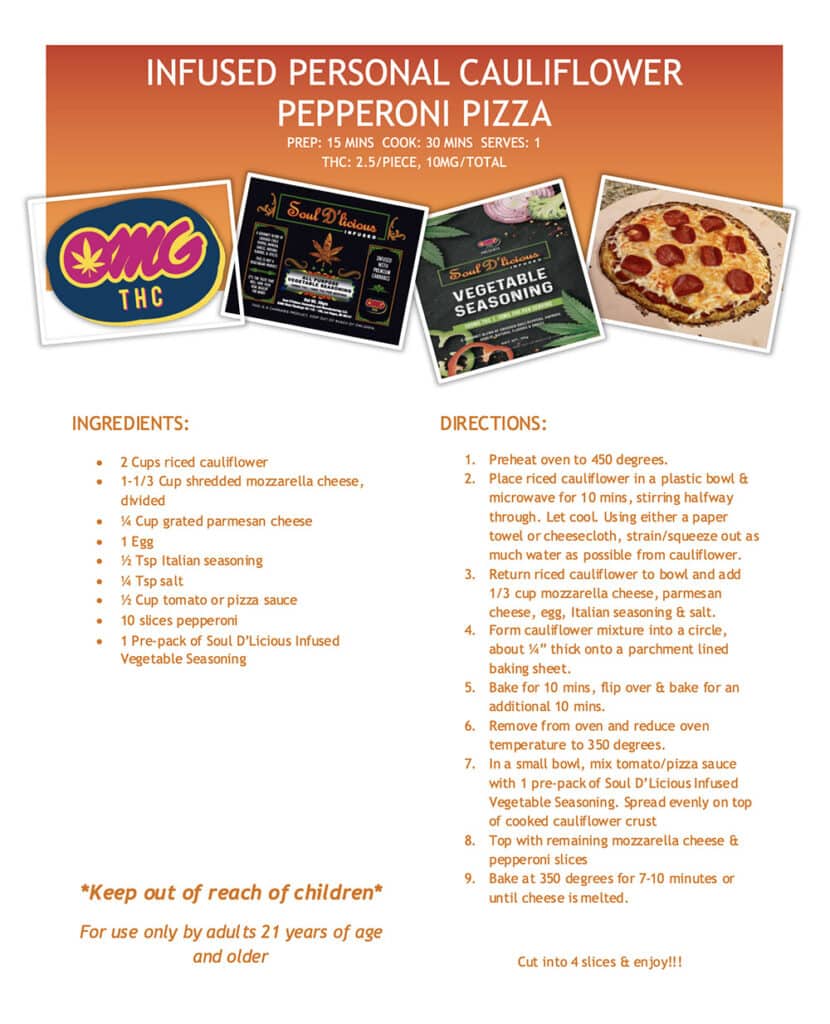 About OMG THC
We're homegrown in Las Vegas, Nevada. We embrace niches others in the Cannabis market ignore or reject. Vegan? Diabetic? Gourmet cook? Old-school hash connoisseur? Looking for a specific ratio of CBD and THC in your products? You got it!
Our products are simple and they are great. From the cannabis oils, we use to the packaging and the varieties of our products. Finally, and best of all, our edibles are damn delicious! In other words, if we wouldn't want to eat them, we aren't going to sell them to anyone else. We NEVER cut our concentrates with anything – period! EVER! We use top-of-the-line C-Cell hardware – always. We ensure quality and purity.
For Adult Use Only
OMG THC products are intended for use by and available to adults 21+ and over. Keep our products out of reach of children and pets. Furthermore, be smart about handling and use, and dosage. Be Vigilant. Keep yourself in check. Finally, enjoy our products responsibly and keep everyone safe.
As always, feel free to Contact OMG THC with any questions or comments you might have. We're here for you and we're responsive to your needs. If you'd like to locate OMG THC products, check out our dispensaries list. You can also find out more about OMG THC on Leafly.