What the Heck are Terpenes?
Simply put, terpenes are organic compounds responsible for creating unique aromas and flavors. These essential oils are found in fruits, saps, and plants all over the world. Terpenes may include smells and tastes of pine, berry, citrus, mint, cinnamon, and various floral notes.
In their most basic form, terpenes are created by plants to protect themselves from predators and to lure in pollinators. In relation to the cannabis plant, terpenes provide the complex flavor and scent profiles of each plant. However, there's more to cannabis terpenes than meets the… well not the eye. Terpenes provide various therapeutic benefits just as THC and CBD do.
Formed from the resinous trichomes of the cannabis plant, terpenes bind to the endocannabinoid receptors located throughout the brain and body. Astonishingly, over 200 different terpenes have been identified in the cannabis plant.
Depending on which receptors they react with, may help to induce sleep and relax muscles. On the other hand, some increase focus. Additionally, some may reduce stress while elevating the user's mood. Finally, they may reduce muscular inflammation while others increase energy.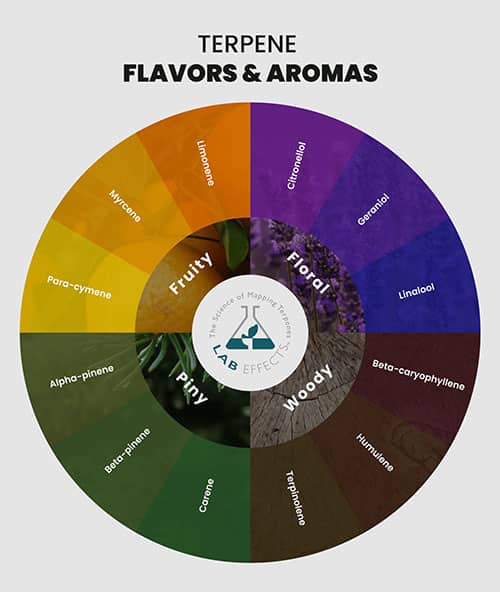 Terpenes and You
Terpenoids work together with cannabinoid compounds in a synergistic relationship referred to as the "entourage effect." When terpenes work together with cannabinoids, the therapeutic potentials increase dramatically.
Terpenes can also modify how much of each cannabinoid is absorbed. In other words, the presence of certain terpenes can increase or decrease the amount of THC is absorbed. Therefore, various terpenes may affect the psychedelic potency of various strains. Consequently, a strain of medical cannabis with the perfect mix of terpenes and cannabinoids can be tailored to treat a particular disease or condition.
Various illnesses and diseases which can be treated by varying terpene profiles include:
Anxiety
Depression
Pain & Inflammation
Cancer
Heart Disease
Infection
It's always worth looking in to which strains and terpene profiles will work best to treat your medicinal needs. For more information, consult a local budtender at your favorite Nevada cannabis dispensary.
About OMG THC
We're homegrown in Las Vegas, Nevada. We embrace niches others in the Cannabis market ignore or reject. Vegan? Diabetic? Old-school hash connoisseur? Looking for a specific ratio of CBD and THC in your products? You got it! We've got you covered!
Additionally, we care about quality and the effects our products have on people's lives & health. OMG THC use only CO2 and ethanol extraction methods. We NEVER use butane or other petrochemicals to extract our oils. We want our products to be easy on the body and safe for our team to make.
Our products are simple and they are great. From the cannabis oils, we use to the packaging and the varieties of our products. Finally, and best of all, our edibles are damn delicious! In other words, if we wouldn't want to eat them, we aren't going to sell them to anyone else.
We NEVER cut our concentrates with anything – period! Not happening… EVER! We use top of the line C-Cell hardware – always. We ensure quality and purity.
For Adult Use Only
OMG THC products are intended for use by and available to adults 21+ and over. Keep our products out of reach of children and pets. Be smart. Be Vigilant. Finally, enjoy our products responsibly and keep everyone safe.
As always, feel free to Contact OMG THC with any questions or comments you might have. We're here for you and we're responsive to your needs.