The following is a news report and article published by KTVN News Channel 2. The original article Great Basin Brewing Collaborates With OMG THC for New Line of Craft Beer Paired Cannabis has been edited for our website.
New Craft Beer Vapes From Great Basin and OMG THC
Great Basin Brewing Company provided OMG THC their signature hop blends for two of their most popular brews: Ichthyosaur ICKY IPA® and Tectonic Event Double IPA
Some Nevada dispensaries are getting a taste of locally made IPAs as part of their selection. OMG THC is teaming up with Great Basin Brewery in this unique venture to create craft beer vape cartridges.
Beer lovers rejoice! It's not often you see beer in a marijuana dispensary. But, OMG THC and Northern Nevada-based Great Basin Brewery are looking for a unique way to fuse the flavors. They're taking the flavor of an IPA's hops and mixing the flavor compounds with cannabis oil to create some special THC cartridges.
Making it Happen
"We use a CO2 extraction method which involves a lot of pressure and Carbon Dioxide to extract the flavor compounds from the hops. We marry that refined cannabinoid oil with those refined hops terpenes and that is what gives it that amazing hop flavor that you get when you drink an Icky or a Tectonic," said OMG THC COO Stephanie Magurno.
In this case, Icky is a good thing. it stands for Ichthyosaur IPA, one of Great Basin Brewery's popular beers. Tectonic Event Double IPA is another of their brews. "It only made sense to combine the two. Our Ichthyosaur IPA and Tectonic Event are very hoppy beers," said Great Basin Brewery Brew Master Tom Young.
As of Wednesday, vape cartridges with the taste of those IPAs hit shelves at Blum dispensary in Reno. Next Wednesday, Blum in Las Vegas will sell them too. Blum dispensaries will sell these cartridges exclusively for the next two months. Then OMG THC is hoping to expand to other dispensaries and possibly incorporate Great Basin's other brews.
Great Basin Brewing Company has partnered with OMG THC on their all-new line of "craft beer paired" cannabis products released to the public.
A so-called "cousin" to cannabis, hops have similar yet unique flavors and aroma compounds called terpenes. Every variety of hops has specific terpenes, which play a part in giving each different beer its own specific taste.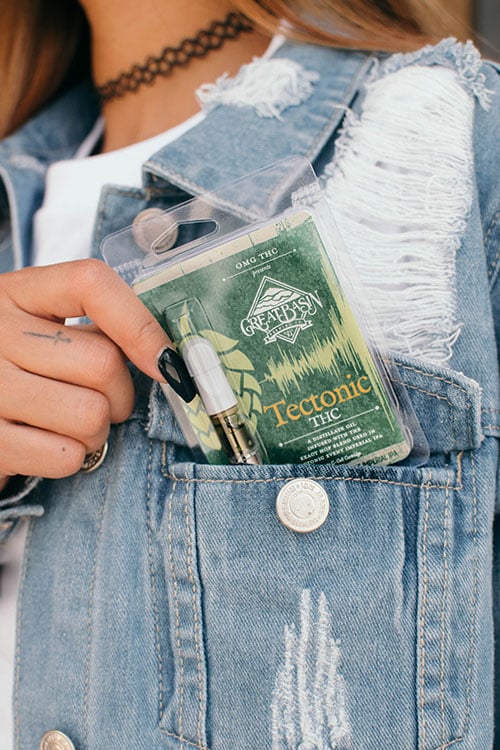 Craft Brews Become Craft Vapes
Great Basin Brewing Company provided OMG THC their signature hop blends for two of their most popular brews: Ichthyosaur ICKY IPA® and Tectonic Event Double IPA. OMG THC extracted the hop terpenes from each and infused them into their premium cannabis distillate. The result is two distinct cannabis products that mimic the hop aroma and flavor profiles of each separate craft beer.
"For over 26 years Great Basin Brewing Company has been on a journey to explore the expanding world of craft beer and to push the boundaries of what's possible," said Tom Young, Owner and Brewmaster of Great Basin Brewing Company. "While no beer was used in creating these 'paired' cannabis cartridges, we see the infusion of our hop blends as another step in that never-ending quest."
While adding cannabis-derived terpenes and THC compounds into alcoholic beverages is strictly prohibited by federal regulations, adding hop terpenes into cannabis is permitted under Nevada state law.
"Working with the brewers at Great Basin Brewing, we fine-tuned the exact hop terpene amounts to infuse into each cartridge to give it the perfect 'paired' effect we were looking for," said Stephanie Maguro, Chief Operating Officer of THC Production, LLC parent of the OMG THC Brand. "We can't wait for fans of craft beer and cannabis to enjoy this all-new experience."
OMG THC is releasing both "ICKY" THC and Tectonic THC on Wednesday, August 5th exclusively at Blüm dispensary in Reno. The following week, on Wednesday, August 12th, fans will be able to find both products exclusively at Blüm dispensaries in Las Vegas.
About OMG THC
We're homegrown in Las Vegas, Nevada. We embrace niches others in the Cannabis market ignore or reject. Vegan? Diabetic? Old-school hash connoisseur? Looking for a specific ratio of CBD and THC in your products? You got it! We've got a product for you!
Additionally, we care about quality and the effects our products have on people's lives & health. OMG THC use only CO2 and ethanol extraction methods. We NEVER use butane or other petrochemicals to extract our oils. We want our products to be easy on the body and safe for our team to make.
Our products are simple and they are great. From the cannabis oils, we use to the packaging and the varieties of our products. Finally, and best of all, our edibles are damn delicious! In other words, if we wouldn't want to eat them, we aren't going to sell them to anyone else.
For Adult Use Only
OMG THC products are intended for use by and available to adults 21+ and over only. Keep our products out of the reach of children and pets. Be smart. Be Vigilant. Finally, enjoy our products responsibly and keep everyone safe.
As always, feel free to Contact OMG THC with any questions or comments you might have. We're here for you and we're responsive to your needs. If you'd like to locate OMG THC products, check out our dispensaries list. You can also find out more about OMG THC on Leafly.
Are You Looking for Assistance With a Blog Campaign?
If you're looking for an experienced team to execute a successful blog campaign, Wonder Web Development is here to help. We take pride in our work, care about our clients and love to see you succeed. After all, your success is a reflection on us.
Interested in learning more? Please feel free to contact the pros at Wonder Web Development for a free consultation. We can't wait to hear from you!
You can reach us by phone at 775-527-3618 or by email at Consults@WonderWebDevelopment.com.