New Product – Lemon Gorilla Hash
We're super excited to announce that we've got a new strain of hash available – Lemon Gorilla! We love it when we release a new type of hash. It's always fun to see what new strains are like, and as always, we enjoy the challenge to mix things up and bring wonderful new products to market.
Our Lemon Gorilla Afghani Hash is now available in a number of fine Nevada dispensaries. As always, we recommend grabbing some up for yourself sooner rather than later. If you're not aware, some of our superb hash products are only available for a limited time. In other words, once they're gone, they're gone. Don't be left in the dust. Be one of the first to give it a try and let us know what you think.
To find out if your favorite dispensary carries our line of fine Afghani Hash products, check out this page. And if they don't, we recommend telling them to start. After all, everyone deserves to experience the beauty and enjoyment of fine hash. Right?
About the Lemon Gorilla Strain
According to The Pot Vault, Lemon Gorilla, also known as Lemon G, is "a Sativa-dominant hybrid strain created by crossing Super Lemon Haze and Gorilla Glue #4. This strain is great for treating anxiety or depression. After taking a toke of Lemon Gorilla, you will feel a euphoric sensation along with a relaxing body high. Lemon Gorilla has a fantastic Lemony taste with accents of pine and spice on the exhale.
As this is not a pure sativa, relaxing indica effects tend to show up first after consuming Lemon G. Over time, however, the upbeat, euphoric, and giggly sativa effects begin to emerge. Lemon G is a sociable strain and, as the name suggests, has a strong lemon fragrance. Taste-wise, this strain is fairly mellow and does not necessarily exhibit the strong citrus properties found in its scent."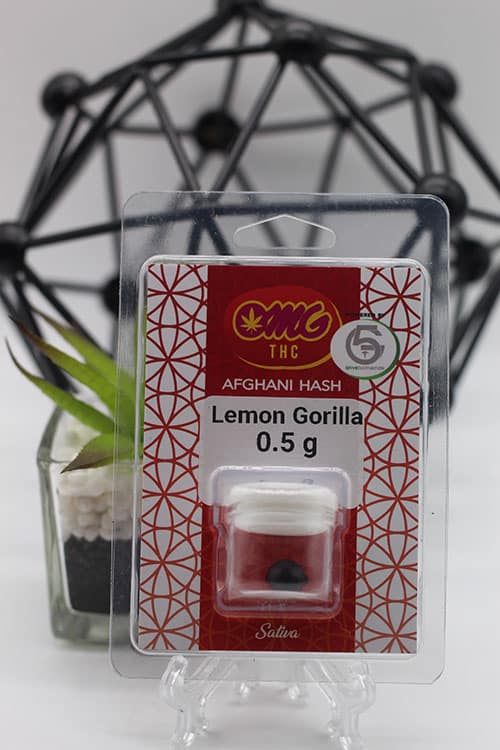 We're homegrown in Las Vegas, Nevada. We embrace niches others in the Cannabis market ignore or reject. Vegan? Diabetic? Gourmet cook? Old-school hash connoisseur? Looking for a specific ratio of CBD and THC in your products? You got it! We've got you covered!
Additionally, we care about quality and the effects our products have on people's lives & health. OMG THC use only CO2 and ethanol extraction methods. We NEVER use butane or other petrochemicals to extract our oils. We want our products to be easy on the body and safe for our team to make.
Our products are simple and they are great. From the cannabis oils, we use to the packaging and the varieties of our products. Finally, and best of all, our edibles are damn delicious! In other words, if we wouldn't want to eat them, we aren't going to sell them to anyone else. We NEVER cut our concentrates with anything – period! EVER! We use top of the line C-Cell hardware – always. We ensure quality and purity.
For Adult Use Only
OMG THC products are intended for use by and available to adults 21+ and over. Keep our products out of reach of children and pets. Be smart. Be Vigilant. Finally, enjoy our products responsibly and keep everyone safe.
As always, feel free to Contact OMG THC with any questions or comments you might have. We're here for you and we're responsive to your needs. If you'd like to locate OMG THC products, check out our dispensaries list. You can also find out more about OMG THC on Leafly.