Vegan Dark Chocolate Covered Strawberries from OMG THC
OMG THC is proud to present an exciting new product- Vegan Dark Chocolate Covered Strawberries. These delicious cannabis-infused edibles are sure to be a favorite sweet treat, and they make an extra fun gift for that special someone. Chocolate covered strawberries are already a decadent treat in their own right. There's a certain romance about this classic pairing. Add in a little cannabis distillate infusion, and suddenly this delicacy is on a whole new level. Let's take a close look at what makes our vegan dark chocolate covered strawberries so special.
What's in Our Vegan Dark Chocolate Covered Strawberries? 
We start with freeze-dried mini strawberries that are preserved in a little bit of citric acid and sugar. Then we cover them with a delicious semi-sweet dairy-free dark chocolate infused with cannabis distillate. The vegan dark chocolate covered strawberries are then finished off with a simple confectioner's glaze and a little kiss of cinnamon. These vegan dark chocolate covered strawberries are the perfect balance of sweet, tart, and mildly bitter flavors. Add in the floral undertones of the cannabis and this is a confection that you aren't soon to forget.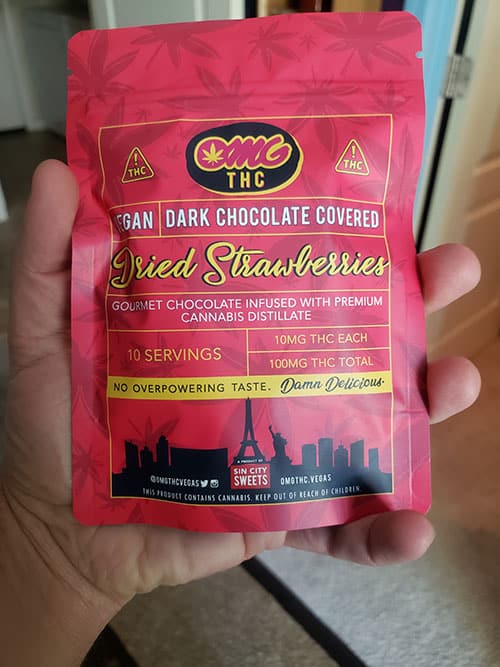 Each package contains ten servings of these vegan dark chocolate covered strawberries, with 10mg of THC per serving, the total package contains 100mg of THC. We always advise cannabis consumers to start low and go slow when it comes to cannabis edibles. This can be difficult, especially when you're enjoying a sweet that is as delicious as this one, but always be sure to pace yourself.
Cannabis edibles usually take anywhere from 20 minutes to an hour for their psychoactive effects to come on, so please wait before consuming more strawberries until you have a good idea of what a 10mg dose feels like in your body. We all know someone who has consumed too many cannabis edibles at once, and regretted it later on. Even experienced cannabis users should use caution when consuming a new edible that they are not familiar with.
More Than Just THC in These Delectable Edibles
In addition to the 10mg of THC per serving, our edibles also contain the cannabinoid CBG with 2.42mg per package. CBG or cannabigerol is a minor cannabinoid that is lesser known than CBD but is sometimes known as the mother of all cannabinoids because it is partially responsible for the cannabis plant's high. Without CBG there would be no THC.
As the young cannabis plant matures and starts forming buds, enzymes and compounds form the early stage cannabinoid known as CBGA. This is the starting point from which all other cannabinoids are formed. As the plant matures and the flowers absorb the sun's UV rays CBDA is converted into THC and CBD. Only a small amount remains as CBG but this cannabinoid has a lot of interesting properties to be excited about.
While there is not a lot of data available yet, early findings indicate that CBG has numerous health benefits. A 2021 patient survey found that the majority of patients that participated found that CBG dominant products were helpful in reducing their symptoms related to chronic pain, anxiety, and insomnia. 
Whether you are consuming edibles for recreational or therapeutic purposes, our vegan dark chocolate strawberries have a lot of benefits to offer. These delicious strawberries are a great surprise for loved ones who enjoy cannabis edibles. These make a nice light dessert after a delicious meal, or a healthy snack when you're craving something sweet. We know our vegan dark chocolate covered strawberries will quickly become one of your favorite treats!
About OMG THC
We're homegrown in Las Vegas, Nevada. We embrace niches others in the Cannabis market ignore or reject. Vegan? Diabetic? Gourmet cook? Old-school hash connoisseur? Looking for a specific ratio of CBD and THC in your products? You got it! We've got you covered!
Additionally, we care about quality and the effects our products have on people's lives & health. OMG THC use only CO2 and ethanol extraction methods. We NEVER use butane or other petrochemicals to extract our oils. We want our products to be easy on the body and safe for our team to make.
For Adult Use Only
OMG THC products are intended for use by and available to adults 21+ and over. Keep our products out of reach of children and pets. Furthermore, be smart about handling and use, and dosage. Be Vigilant. Keep yourself in check. Finally, enjoy our products responsibly and keep everyone safe.
As always, feel free to Contact OMG THC with any questions or comments you might have. We're here for you and we're responsive to your needs. If you'd like to locate OMG THC products, check out our dispensaries list. You can also find out more about OMG THC on Leafly.