The Chicken Pot Pie You Never Knew You Wanted
Sometimes, there are things in this world you never thought you needed. Things you never knew existed. Well, we're here to spread the good word about this infused chicken pot pie recipe. This is a more complex recipe, involves a good amount of ingredients, and a variety of steps, but trust us when we say it's worth it!
If you're a fan of comfort food and looking for a new twist on your dinner delights, we're happy to say this chicken pot pie recipe is a winner! You won't be disappointed. This delectable recipe for this THC-infused savory chicken pot pie using our Soul D'licious Infused seasoning was submitted by fabulous foodie Jessica Walker. It was purchased at Planet 13 Dispensary in Las Vegas where she works as a budtender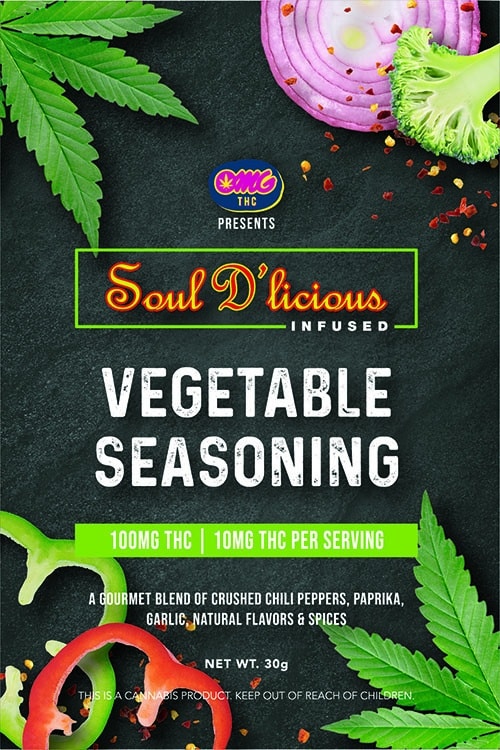 Chicken Pot Pie Infused with Premium THC Distillate
Ingredients:
1 LB boneless, skinless chicken breast
1 can of drained mixed vegetables
1/2 cup sliced celery
1/4 cup diced onions
1 medium peeled & cubed potato
1/4 cup of butter
1/2 cup milk (Vitamin D recommended for creaminess)
1 can condensed cream of chicken soup (10.5oz)
1 can condensed cream of celery soup (10.5oz)
2 pack 9″ deep dish pie crusts (thawed)
4 packets of Soul D'licious Infused All-purpose Vegetable Seasoning (40mg THC total)
Directions:
1) Preheat the oven to 350 degrees. Fill a saucepan with 3 cups of water & heat over medium-high heat.
2) Prep the chicken breast by cutting it into bite-sized cubes. Place into a saucepan and boil for 8 minutes. Remove from heat, drain, and set aside for now.
3) Set aside 1 of the thawed pie crusts and place the other onto a cookie sheet. Using a fork, poke several holes in the bottom of the crust before placing it into the heated oven. Pre-bake for 12 minutes. Remove, set aside, and leave the oven on.
4) In a separate saucepan, melt the butter over medium heat. Add onions, celery, and potatoes. Once the onions are soft & translucent, stir in mixed vegetables, cooked chicken, both cans of soup, milk, and 4 packs of Soul D'licious Infused Vegetable Seasoning. Mix together well, remove from heat, and pour the mixture into the prebaked pie crust. Set aside.
5) Grab the remaining pie crust and carefully remove the pastry from the pie tin. Once removed, gently place the pastry on top of the filled pie. Seal the edges of the top crust with a fork. Cut a few small slits to allow steam to escape while baking and for extra flavor and texture, brush with a thin layer of egg wash before placing your chicken pot pie in the oven.
6) Bake your infused chicken pot pie for 30-35 minutes or until the crust is golden brown.
7) Let pot pie cool for 10 minutes, slice into 4 pieces, serve, and enjoy!
Learn More About Soul D'licious Infused Spices
If you'd like to read about other cannabis cooking recipes using Soul D'licious Infused seasonings, check out our spice & recipes page and experience them all for yourself! You can even submit your own recipe ideas on the page as well. So what are you waiting for? Get to cooking and get to eatin'!
About OMG THC
We're homegrown in Las Vegas, Nevada. We embrace niches others in the Cannabis market ignore or reject. Vegan? Diabetic? Gourmet cook? Old-school hash connoisseur? Looking for a specific ratio of CBD and THC in your products? You got it!
Our products are simple and they are great. From the cannabis oils, we use to the packaging and the varieties of our products. Finally, and best of all, our edibles are damn delicious! In other words, if we wouldn't want to eat them, we aren't going to sell them to anyone else. We NEVER cut our concentrates with anything – period! EVER! We use top-of-the-line C-Cell hardware – always. We ensure quality and purity.
For Adult Use Only
OMG THC products are intended for use by and available to adults 21+ and over. Keep our products out of reach of children and pets. Furthermore, be smart about handling and use, and dosage. Be Vigilant. Keep yourself in check. Finally, enjoy our products responsibly and keep everyone safe.
As always, feel free to Contact OMG THC with any questions or comments you might have. We're here for you and we're responsive to your needs. If you'd like to locate OMG THC products, check out our dispensaries list. You can also find out more about OMG THC on Leafly.