Chipotle Sautéed Shrimp – Your Delicious Dinner is Served
Who doesn't love a plate full of delicious sautéed shrimp? Well, there are some of them out there. My sister in fact. But I'm cool with that because I never have to battle her for any of the seafood. It's actually a pretty sweet deal! But for the rest of us who aren't completely crazy, it's safe to say that this chipotle sautéed shrimp recipe is the perfect choice for a light protein-packed dish or a fantastic centerpiece to your dinner served with a variety of tasty veggies.
This delicious recipe for THC-infused chipotle sautéed shrimp using our Soul D'licious Infused seasoning was submitted by badass budtender & cannabis cook Jessica Walker. The spices were purchased at Planet 13 Dispensary in Las Vegas.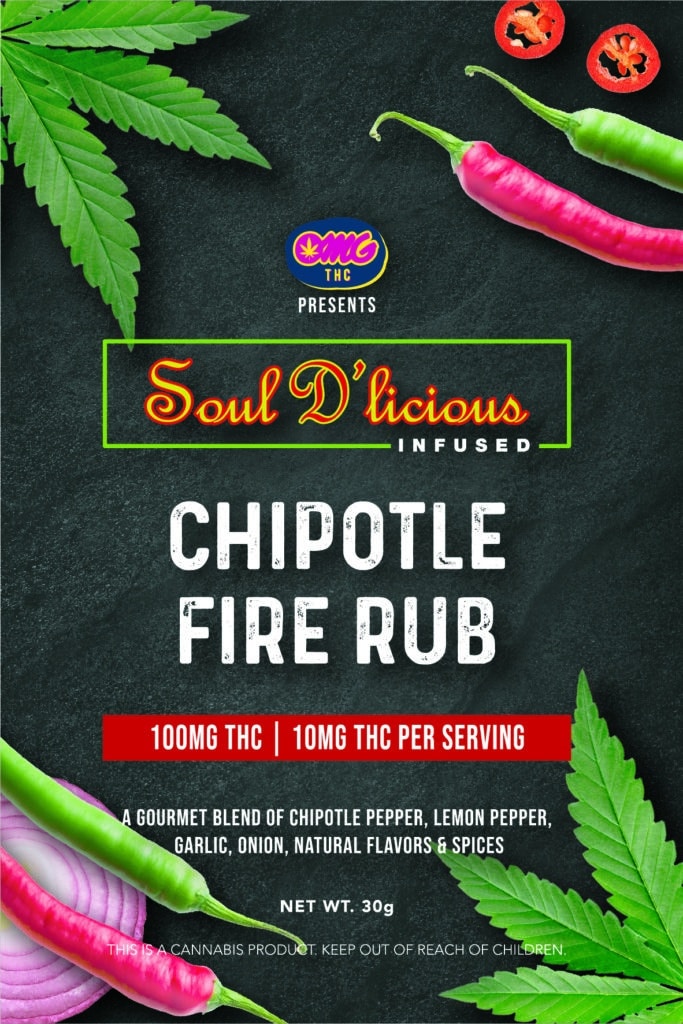 How to Make Smokey Chipotle Sautéed Shrimp
Ingredients:
1 Pound (30 pcs) large deveined raw shrimp (thawed)
8 Tbsp Butter
1 Garlic clove (minced)
2 Pre-packs of Soul D'Licious Infused Chipotle Fire Rub
1 Lemon, to taste
Seasoning of choice, to taste (optional)
Directions:
1. Rinse & pat dry shrimp.
2. In a bowl, combine shrimp, both pre-packs of Soul D'Licious Infused Chipotle Fire Rub & optional seasoning of choice. Mix well.
3. In a skillet, over medium heat, melt the butter & garlic.
4. Add shrimp and cook for 3-3.5 minutes per side.
5. Remove from heat & drizzle freshly squeezed lemon, to taste.
Learn More About Soul D'licious Infused Spices
If you'd like to read about other cannabis cooking recipes using Soul D'licious Infused seasonings, check out our spice & recipes page and experience them all for yourself! You can even submit your own recipe ideas on the page as well. So what are you waiting for? Get to cooking and get to eatin'!
About OMG THC
We're homegrown in Las Vegas, Nevada. We embrace niches others in the Cannabis market ignore or reject. Vegan? Diabetic? Gourmet cook? Old-school hash connoisseur? Looking for a specific ratio of CBD and THC in your products? You got it!
Our products are simple and they are great. From the cannabis oils, we use to the packaging and the varieties of our products. Finally, and best of all, our edibles are damn delicious! In other words, if we wouldn't want to eat them, we aren't going to sell them to anyone else. We NEVER cut our concentrates with anything – period! EVER! We use top-of-the-line C-Cell hardware – always. We ensure quality and purity.
For Adult Use Only
OMG THC products are intended for use by and available to adults 21+ and over. Keep our products out of reach of children and pets. Furthermore, be smart about handling and use, and dosage. Be Vigilant. Keep yourself in check. Finally, enjoy our products responsibly and keep everyone safe.
As always, feel free to Contact OMG THC with any questions or comments you might have. We're here for you and we're responsive to your needs. If you'd like to locate OMG THC products, check out our dispensaries list. You can also find out more about OMG THC on Leafly.