This episode of Soul D'licious Infused with Benjamin Bey & Stephanie Magurno aired on June 6th, 2020 on KUNV 91.5.
Introduction of the Podcast
Episode #1: An introduction to Benjamin Bey of Soul D'licious Seasonings and an interview with co-host Stephanie Magurno of THC Production, LLC. The two introduce each other and talk about what the show will entail in the future. Stephanie gives a rundown of the products produced by her company including THC and CBD tinctures, Afghani Hash, chocolate edibles, infused gummies, and more.
An Introduction to Benjamin Bey and Soul D'licious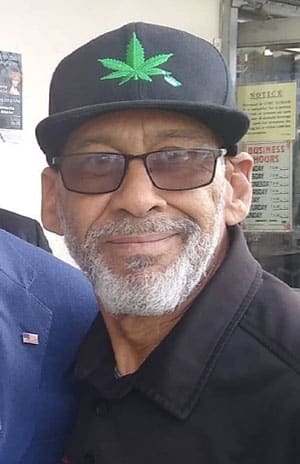 Benjamin Bey established what would become Soul D'licious Seasonings in 2006. It all came together when Ben came from Los Angeles and started a Catering Business in Las Vegas NV.
After doing events in the greater Vegas Valley (such as The Taste of Sound & Soul, Culture Fest in Down Town Las Vegas, and Black History Month at the Springs Preserves), people started asking what it was that made our tasty dishes so delicious. Ben got together with his team and blended his seasonings and went to see Mr. Jimmy Banks at Jimmy's Cheyenne Market to ask if we could demo our seasonings in his store. Mr Banks said yes.
After one year of people tasting our seasonings, Ben went back to Mr. Banks to see if we could start manufacturing and processing at Jimmy's Cheyenne Market. Again, he said YES! After getting all of his permits, the rest was history.
For the last 10 years, Soul D'licious Seasonings has been serving Las Vegas, NV & Los Angeles, CA our seasonings & sauces.
IT'S THE TASTE THAT WILL HAVE YOUR SOUL BEGGIN FOR MORE….. SOUL D'LICIOUS.
Specialties:
Product Development/Branding
Team & Relationship Building
Budgeting & Expense Control
Startup Operations
Applications Development
Enterprise Resource Planning
Project Management
Cost Accounting & Scheduling
Product Design & Specifications
Strategic Business Planning
Online Marketing
An Introduction to Stephanie Magurno
First off, as the Controller for a small cannabis extraction company, Stephanie handles all accounting responsibilities. This includes AP / AR, GL and journal entries, bank reconciliation, and setting up the Chart of Accounts. Additionally, Stephanie prepares financial reports for auditing & tax filings. Finally, she manages payroll functions, designing and improving the cost accounting system for internal users, and using the data to determine pricing and business strategy.
COO & Controller at THC Production, LLC
What Everyone Thinks She Does: Is in the process of giving herself carpal tunnel from constantly being on the computer.
What She Actually Does: Runs the company day-to-day, plans production, develops partnerships, supervises the team, and formulates business strategy. Manages all of the company's finances, bookkeeping, and costing.
Favorite Product: "The Vegan 1:1 Chocolate Bars are my favorite… no question. Our vegan chocolate is so delicious that all the non-vegans who try it love it. Taste is incredibly important to us, so we were the first production company in the state to infuse our products with distillate. This means when it's infused it doesn't taste like weed. I love our 1:1 products because they have equal amounts of CBD and THC along with other cannabinoids – providing more of an entourage effect that you cannot get from consuming THC alone."
Learn More About Us:
Soul D'licious Seasonings:
OMG THC:
Experience Premium Cannabis:
THC Production, LLC:
VIEW FULL PODCAST ARCHIVE HERE:
"Soul D'licious Infused"
Each podcast episode of Soul D'licious Infused includes different topics on the Nevada cannabis industry, as well as special guests. We interview different people from across the industry and discuss all kinds of topics from the pros and cons of different extracts to cannabis trends, to the stories behind people who work in cannabis.
Additionally, we discuss our partnership with Soul D'licious Seasonings to create the first THC and CBD infused spices!
"Soul D'licious Infused" can be heard on KUNV 95.1 and TuneIn internet radio. Come join us every Saturday at 7:30am!