OMG THC and THC Production, LLC are super stoked to announce our latest partnership with Soul D'licious Seasonings! This new partnership venture is sure to be an amazing team-up. We're working on making the first THC and CBD infused seasonings to delight your body and mind.
We're on a mission to light up your tastebuds and brighten your day with the very best in Cannabis distillate products. Coming soon to the Nevada recreational and medical market!
Soul D'licious Seasonings
The Soul D'licious principle philosophy steams from a growing demand to provide a healthy alternative to traditional seasonings. Frequently, normal seasonings are packed full of salt and lab-created colors and chemicals. But not Soul D'licious!
Soul D'licious has been recognized throughout the western states based on our superb catering services located in Las Vegas Nevada, and Los Angeles California. Throughout the past six years, Soul D'licious has created more than 28 seasoning products with a specialty of (3) main products. These include All-Purpose Vegetable Seasoning, Blackening Season, and All-Purpose Seasoning Rub.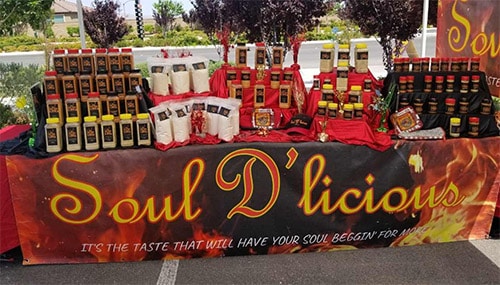 Now, with the partnership of THC Production, LLC & OMG THC, we're both proud to introduce Soul D'licious Infused seasonings. We're taking our high-quality THC and CBD oils and combining them with Soul D'licious seasonings to give medical and recreational cannabis enthusiasts a brand new seasoning experience! Season your favorite meats, salads, and more with a combo of the best flavors, relaxation, and fun! What more could you ask for?
Soul D'licious Infused seasonings will first be available at Nevada Wellness Center. Other dispensary location announcements to follow. NWC is located at 3200 S. Valley View Blvd, Las Vegas, NV 89102.
UPDATE: Soul D'licious Infused THC Seasoning blend can now be found at all of these locations.
About OMG THC
We're homegrown in Las Vegas, Nevada. We embrace niches others in the Cannabis market ignore or reject. Vegan? Diabetic? Old-school hash connoisseur? Looking for a specific ratio of CBD and THC in your products? Want to spice up your favorite meal with a THC twist? You got it! We've got you covered!
Additionally, we care about quality and the effects our products have on people's lives & health. OMG THC use only CO2 and ethanol extraction methods. We NEVER use butane or other petrochemicals to extract our oils. We want our products to be easy on the body and safe for our team to make.
Our products are simple and they are great. From the cannabis oils, we use to the packaging and the varieties of our products. Finally, and best of all, our edibles are damn delicious! In other words, if we wouldn't want to eat them, we aren't going to sell them to anyone else.
Additionally, we NEVER cut our concentrates with anything – period! Not happening… EVER! We use top of the line C-Cell hardware – always. We ensure quality and purity.
For Adult Use Only
OMG THC products (including Soul D'licious Seasonings) are intended for use by and available to adults 21+ and over. Keep our products out of reach of children and pets. Be smart. Be Vigilant. Finally, enjoy our products responsibly and keep everyone safe.
As always, feel free to Contact OMG THC with any questions or comments you might have. We're here for you and we're responsive to your needs.