Well, it's the dead of summer right now and I accidentally stumbled upon another amazing use for Soul D'licious Infused seasonings. And as always, I've just got to share it with you. After all, these THC distillate-infused seasonings are such a new concept that it's important to share all the wins we discover.
As far as I'm concerned, this is the Summer of Soul D'licious! And with that as my motto, I've been carrying around at least 2 full packs of Soul D'licious Infused seasonings to every birthday party, campout, and BBQ I go to. This time, it was my friend's "Dirty 30" party, and let me tell you, it was one for the record books. 6 kegs, full open bar, music for 12 hours, roasted pig, full potluck… you get the idea.
Anyhow, I somehow found myself behind the bar for a lot of the events. I always have fun playing bartender at events. It's a great place to mingle and meet new people. And everyone is always happy and appreciative. However, being stuck behind the bar for a lot of the event, I started wondering what I was going to do with all the spices I had brought along with me. Suddenly, while making some delicious coconut/pineapple/mango blended drinks, I knew what to do! The pineapple! That would have to taste great, right? The sweetness of the pineapple mixed with the strong, flavorful smokey heat of the chipotle peppers in the Soul D'licious Chipotle Fire Rub. I had to give it a go.
Introducing Newbies to Soul D'licious Infused
This is a very new product and a very new concept for most people. After all, nearly every other edible on the market is some kind of sugary confectionery or baked good. Chocolates, gummies, drinks, hard candies, cookies… we all know the drill. With that said, not too many people know about Soul D'licious Infused.
When I introduce people to the concept, I have to explain it a couple of times. Especially when handing out random foods to party guests. And one thing people are always a bit apprehensive about is taking too much, which I TOTALLY GET. But with a product like this, it's too cool not to share about and experiment with. And that's how we got to the fresh-cut pineapple.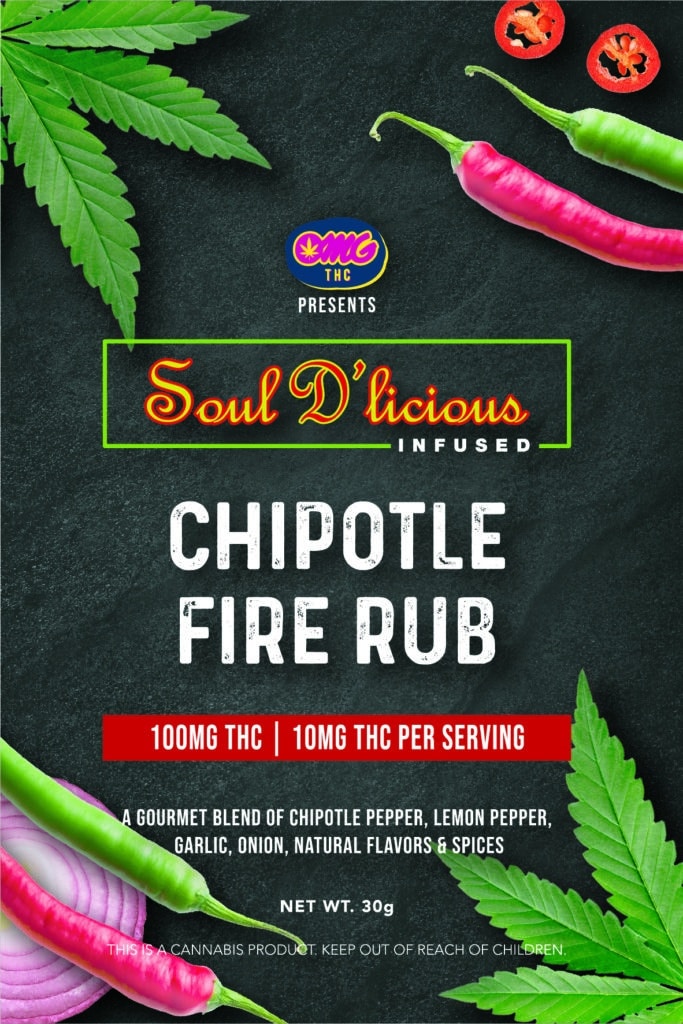 Making My THC Distillate Chipotle Pineapple
At first, I grabbed the remaining pineapple chunks left behind the bar and sprinkled three 10mg packets of the Chipotle Fire Rub seasoning on them. I placed them out on the bar and when people began to come up, I asked them if they'd like to try my THC distillate chipotle pineapple. Most people did a double-take. As I said, nobody is prepared for savory edibles. It's so new. However, everyone was intrigued and a lot of people had to give the chipotle pineapple edibles a try. It was a total 100% win! In fact, one guy loved them so much he ate about a quarter of the first batch. Most others tried a couple of chunks. Some people liked them so much I actually ended up giving them a packet of their own to try at home.
After the first batch was gone and dinner had already been served, I figured the rest of the fruit was up for grabs. There was still a good amount of pineapple left, so I snagged it and brought it back over to the bar. It was time for round two. This time, I grabbed five 10mg bags and sprinkled those all over the pineapple, and set them back out. Again, everyone absolutely loved the flavor profile of the chipotle pineapple edibles! And this time they went really fast. After all, the day was turning into night and everyone was in the mood to party. Soon, I was all out again, but I still had some packets of Soul D'licious Infused Seasonings left and I wanted to share them with everyone. What to do?
The Saga Continues – Chipotle Peaches & Mangos
With all the pineapple gone, I went back in to see what other fruits were available and what might be a good option to finish off my seasonings. Bam! Mangos and peaches! Perfect! I grabbed up the rest of the mango chunks and peach slices, sprinkled my remaining seven packs of 10g seasonings, and set them out on the bar for sampling.
Again, everyone loved the smokey/sweet contrast of the spicy fruits. I even began walking around the party and handing them out to various people who were interested in giving this brand new edible treat a go. They were gone within 20 minutes… and I was out of fruit. My takeaway… this is a total win and a great way to use your Soul D'licious Infused seasonings in a unique way.
How to Make THC Distillate Chipotle Pineapple Chunks
This simple recipe for chipotle pineapple chunks will truly have your guest begging for more. Best of all, it's super simple! If you're making this treat for yourself, dose as necessary. However, I'm going to assume you're making this for a group of people. This recipe will serve 5-10 occasional users. If your crowd is more… seasoned users (I can't resist a good pun), then double or triple the ingredients or doses. Just make sure to let your guests know how strong you made the batch.
And of course, I'd highly recommend experimenting with other fruits, just as I did with mangos and peaches. That's the best part about Soul D'licious Infused seasonings! It's a whole new way to enjoy edibles! With that said, here's my recipe for infused chipotle pineapple chunk edibles.
Ingredients:
2 large, fresh pineapples ?
1 pack of Soul D'licious Infused Chipotle Fire Rub (100mg total)
Directions:
Take both pineapples and chop the top off. Next, I reccomend using a pineapple correr. This not only makes it much easier to get to the delicous meat of the pineapple, but you can avoid wasting time and pineapple by slicing up the fruit and getting rid of the spines.
Slice your pineapple rings into the desired sized chunks you'd like and place the chunks in a container you can snap or seal closed.
Open all the packets (10 in total) and sprinkle them all lover the pineapple chunks
Close your container and shake around lightly, ensuring all the chipotle distillate seasoning is evenly distributed accros the pineapple.
Take the hollowed out pinapples, remove the core, and fill each of them with some of your delicious chipotle pineapple.
Enjoy!
There's So Much More!
We'd love to know if you and your guests enjoyed this recipe. If so, please let us know on social media. Send us pics, tag us, and spread the word! Oh and remember, when serving edibles to your guests, please make sure to let them know. Tell them the approximate dosage per edible and ensure they can enjoy these chipotle pineapple chunks and everything else you make in a fun, safe manner.
If you'd like to read about other cannabis cooking recipes using Soul D'licious Infused seasonings, check out our spices & recipes page and experience them all for yourself! You can even submit your own recipe ideas on the page as well. So what are you waiting for? Get to cooking and get to eatin'!
About OMG THC
We're homegrown in Las Vegas, Nevada. We embrace niches others in the Cannabis market ignore or reject. Vegan? Diabetic? Gourmet cook? Old-school hash connoisseur? Looking for a specific ratio of CBD and THC in your products? You got it!
Additionally, we care about quality and the effects our products have on people's lives & health. OMG THC use only CO2 and ethanol extraction methods. We NEVER use butane or other petrochemicals to extract our oils. We want our products to be easy on the body and safe for our team to make.
Our products are simple and they are great. From the cannabis oils, we use to the packaging and the varieties of our products. Finally, and best of all, our edibles are damn delicious! In other words, if we wouldn't want to eat them, we aren't going to sell them to anyone else. We NEVER cut our concentrates with anything – period! EVER! We use top-of-the-line C-Cell hardware – always. We ensure quality and purity.
For Adult Use Only
OMG THC products are intended for use by and available to adults 21+ and over. Keep our products out of reach of children and pets. Furthermore, be smart about handling and use, and dosage. Be Vigilant. Keep yourself in check. Finally, enjoy our products responsibly and keep everyone safe.
As always, feel free to Contact OMG THC with any questions or comments you might have. We're here for you and we're responsive to your needs. If you'd like to locate OMG THC products, check out our dispensaries list. You can also find out more about OMG THC on Leafly.