OMG THC is super stoked to announce the introduction of our Limited Edition Valentines' Day chocolate bars. This is a brand new product for us. We have two different types of bars available for the holiday season. White Chocolate Strawberries & Cream, and Milk Chocolate Strawberries & Cream. Each bar contains 100mg of THC cannabis distillate, each sectioned out into 10 separate 10mg doses.
Our new Valentine's Day chocolate bars are a luscious combination of strawberry and creamy white or milk chocolate. These hand-made treats are the perfect way to say "Be Mine" on Valentine's Day! Solvent-free, distillate-infused gourmet chocolate that is damn delicious, and the perfect fun little treat to show someone you love them.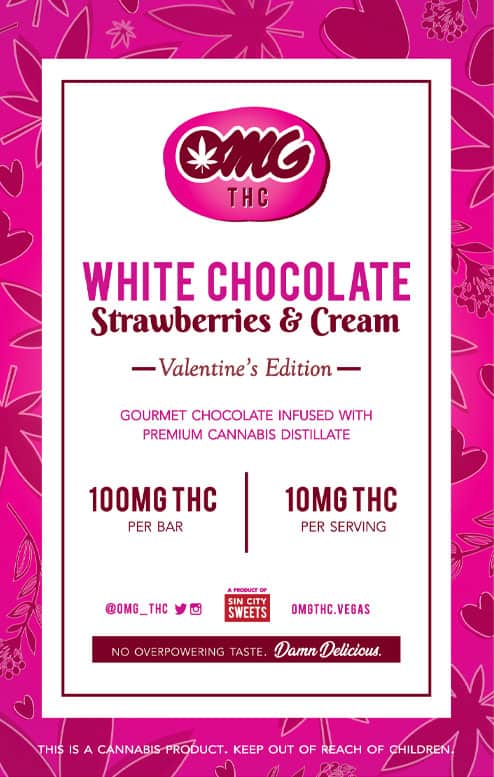 Interested in Ordering Our Valentine's Day Chocolate Bars?
If you're a dispensary purchasing manager and you're interested in obtaining our Valentine's chocolate bars to add to your menu, please reach out to us. Depending on your location in Nevada, you can reach out to one of our respective regional reps.
For order placement in Southern Nevada, please contact Melinda Brown. She can be reached by phone at (925) 286-6351 or by email at Melinda@THCProduction.com. To place orders for Northern Nevada, please contact Jerilyn Gann. She can be reached by phone at (775) 815-9719 or by email at Jerilyn@THCProduction.com. View the full THC Production menu on Leaflink.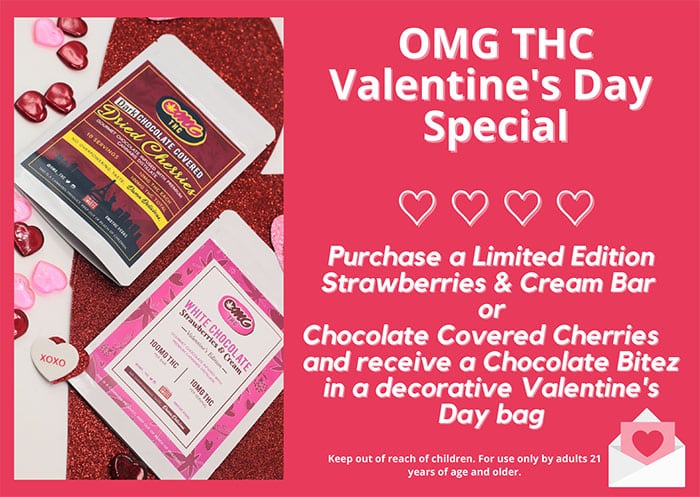 About OMG THC
We're homegrown in Las Vegas, Nevada. We embrace niches others in the Cannabis market ignore or reject. Vegan? Diabetic? Old-school hash connoisseur? Looking for a specific ratio of CBD and THC in your products?  You got it!
Additionally, we care about quality and the effects our products have on people's lives & health. OMG THC use only CO2 and ethanol extraction methods. We NEVER use butane or other petrochemicals to extract our oils. We want our products to be easy on the body and safe for our team to make.
Our products are simple and they are great. From the cannabis oils, we use to the packaging and the varieties of our products. Finally, and best of all, our edibles are damn delicious! In other words, if we wouldn't want to eat them, we aren't going to sell them to anyone else.
For Adult Use Only
OMG THC products are intended for use by and available to adults 21+ and over. Keep our products out of reach of children and pets. Be smart. Be Vigilant. Finally, enjoy our products responsibly and keep everyone safe.
As always, feel free to Contact OMG THC with any questions or comments you might have. We're here for you and we're responsive to your needs. If you'd like to locate OMG THC products, check out our dispensaries list. You can also find out more about OMG THC on Leafly.