Now Available on Spotify
We have great news! Your favorite cannabis podcast Soul D'licious Infused is now available for streaming on Spotify. We're very excited to extend our reach and make Soul D'licious Infused available to more people. New episodes will be posted every Monday afternoon at 4:20pm. Ya, it's like that.
What is Spotify?
What? Have you been living under a rock?? Spotify is an audio streaming platform with both free and paid memberships. Spotify is available in most of Europe and the Americas, Oceania, and parts of Africa and Asia. It's available on most modern devices including Windows, macOS, and Linux computers. Additionally, you can listen on most iOS and Android smartphones and tablets. Recently, AI-enabled smart speakers such as Amazon Echo and Google Home began supporting the service as well.
Start listening to Soul D'licious Infused on Spotify now!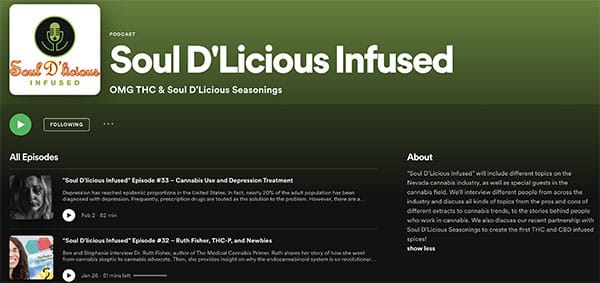 About Soul D'licous Infused
Soul D'licious Infused is our radio show podcast where we discuss the Nevada cannabis industry and the fascinating world of cannabis. Each episode of Soul D'licious Infused focuses on different topics in the Nevada cannabis industry. These include the pros and cons of different extracts, cannabis trends, local market info, and more.
Then, we feature special guests and interview different people from across the industry. Next, we discuss their history and current roles in the cannabis industry. Additionally, we talk about cannabis science topics and cannabis studies. Finally, we discuss our partnership with Soul D'licious Seasonings to create the first THC and CBD infused spices!
Listen to "Soul D'licious Infused" live on KUNV 95.1 and TuneIn internet radio. Come join us every Saturday at 7:30am! Additionally, you can check our YouTube channel for new episode uploads every Monday at 4:20pm. Make sure to like, subscribe and press the bell icon to receive updates. Enjoy!
We Want to Hear From You! Reach out to us to suggest topics or find out about guest spots on the Soul D'licious Infused podcast. You can get ahold of us by sending an email to Podcast@THCProduction.com. Additionally, keep an eye out for our new segment, "Read Your Mind" where we read and answer your questions on the show!
Learn More About Us:
Soul D'licious Infused is a joint venture production between Soul D'licious Seasoning and OMG THC. Find out more about us below:
Soul D'licious Seasonings:
OMG THC:
THC Production, LLC:
VIEW FULL PODCAST ARCHIVE HERE: