Benjamin Bey of Soul D'licious Seasonings and co-host Stephanie Magurno of THC Production, LLC interview Dr. Ruth Fisher, author of The Medical Cannabis Primer. Ruth shares her story of how she went from cannabis skeptic to cannabis advocate. Then, she provides insight on why the endocannabinoid system is so revolutionary, why doctors know so little about cannabis, and who should avoid cannabis. Finally, we talk about the newly discovered THC-P, guidelines for first-time cannabis consumers, and news on our infused spices.
Cannabis Science – THC-P
You may not know it but your body actually has a system designed to process cannabis. Yes! Really! It's called the endocannabinoid system. According to Wikipedia, the endocannabinoid system is "a biological system composed of endogenous lipid-based retrograde neurotransmitters that bind to cannabinoid receptors and cannabinoid receptor proteins that are expressed throughout the vertebrate central nervous system and peripheral nervous system."
So far, scientists have discovered two main receptors in the systems… They are known as CB1 (in the brain), and CB2 (in the body). Every time we discover a new cannabinoid, we learn more about the cannabis plant. The newest discovery is THC-P.
Scientists tested its ability to bind to the cannabinoid system. It seemed to affect the mice tested in a more intense way than standard THC (aka Delta 9). In fact, it binds around 30X better than THC to the CB1 receptors, and 6X better to the CB2 receptors. However, we are not sure how THC-P affects humans. Additionally, we're not sure if the increase in binding potential necessarily relates to the potential for greater strength of the chemical. Hopefully, we'll learn more about the human application of THC-P soon.
Nugs of Knowledge – Newbies
This week, we discuss cannabis newbies – those people who have yet to try cannabis but may be canna-curious. New cannabis users will likely have 3 options to try. Flower, edibles, or extracts/concentrates. Depending on the strains of cannabis a user consumes, they may experience different results. Sativa and Indica deliver different results.
For those who are new to cannabis, the best practice is to start small and work your way up. Flower and extracts will kick in faster so it's easier to know how strong of a sensation you'll feel during your high. However, edibles take longer to kick in. In fact, some may take hours to feel. Therefore, it is best to start with a small dose. If necessary, you can always take more later on or at a later date. But you can't take less. So be smart and be cautious. After all, you wouldn't try alcohol for the first time by drinking half a bottle.
Hash It Out! – Dr. Ruth Fisher, Ph.D.
Today we interview Dr. Ruth Fisher; author of The Medical Cannabis Primer. Ruth Fisher is an economist with a Ph.D. from the University of Chicago. Additionally, she is the co-founder of CannDynamics – a technology company dedicated to making cannabis metrics meaningful and accessible for medical cannabis patients.
Ruth Fisher was introduced to cannabis in college. However, it wasn't really her thing; mainly because she bought into the stigma. After doing a lot of work in the healthcare industry, Ruth became aware of cannabis use for medical patients. It came to prominence in the 90s when AIDS patients began using it. Again though, she doubted that cannabis did anything besides getting them high.
Later on, she changed her mind after her brother began suffering from MS. After his neurologist recommended he look into cannabis use to treat his pain, Ruth reconsidered her position. However, she noticed that both doctors and patients were operating blindly. There was little information available for both parties. So her brother asked for her opinion. Ruth began to delve into the world of cannabis and she completely changed her tune. In fact, she became a huge proponent for medical cannabis use after learning about the endocannabinoid system.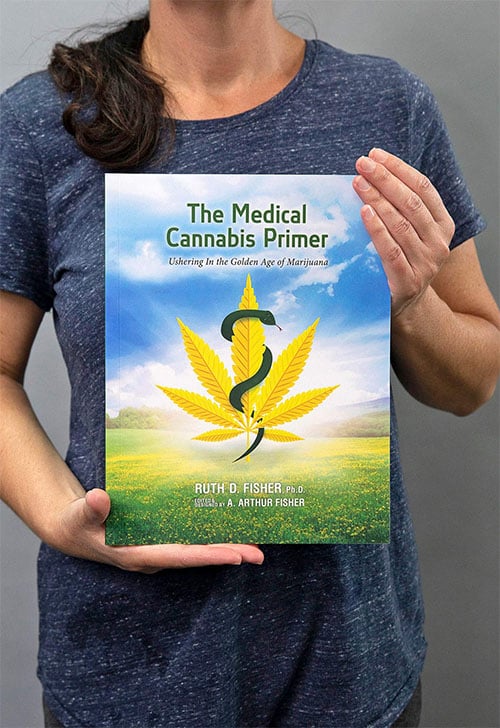 The Medical Cannabis Primer by Dr. Ruth Fisher
The Medical Cannabis Primer is a comprehensive introduction and survey of medical cannabis for patients and healthcare professionals. Ruth decided to write it after finding out that doctors knew very little about medical cannabis, how to use it, and how their patients could benefit from it.
The Medical Cannabis Primer covers the risks and side effects of medicinal cannabis and how these risks compare to other substances. Additionally, the book discusses cannabinoids, parts of the cannabis plant, active substances, and their interaction in the human body. It also covers dosing and forms of use so users can make informed decisions about their cannabis intake. Finally, it covers the healthcare side of cannabis as a medicine, recent advances in our understanding of how cannabis works in the body, and it's potential to treat future conditions.
You can learn more about Ruth Fisher on her LinkedIn page, Additionally, you can purchase a copy of The Medical Cannabis Primer by Ruth Fisher from her Amazon.com store.
Soul D'Licious Infused Experience
We've got some big news about our new Soul D'Licious Infused seasonings. Our spices are now available in eight different dispensaries. We launched in Nevada Wellness Center in Las Vegas. However, we've now spread to Thrive (Cactus), Vegas Treehouse, Planet 13, The Sanctuary, Top Notch, Jade (in Reno), and Jade (Vegas).
For consumers interested in using Soul D'Licious Infused, we recommend sprinkling it on food after you've cooked it. Additionally, we suggest cooking food mixed with Soul D'Licious Infused at a lower temp around 375 or less. You can also sprinkle it on cold foods like salads and more!
This episode of Soul D'licious Infused with Benjamin Bey & Stephanie Magurno aired on January 23rd, 2021 on KUNV 91.5.
Learn More About Us:
Soul D'licious Seasonings:
OMG THC:
Experience Premium Cannabis:
THC Production, LLC:
VIEW FULL PODCAST ARCHIVE HERE:
"Soul D'licious Infused"
Each podcast episode of Soul D'licious Infused includes different topics on the Nevada cannabis industry, as well as special guests. We interview different people from across the industry and discuss all kinds of topics. These include the pros and cons of different extracts, cannabis trends, local market info, and more. Additionally, we talk about cannabis science topics and cannabis studies. Finally, we feature the stories behind the people who work in the cannabis industry.
Additionally, we discuss our partnership with Soul D'licious Seasonings to create the first THC and CBD infused spices!
Listen to "Soul D'licious Infused" on KUNV 95.1 and TuneIn internet radio. Come join us every Saturday at 7:30am!
We Want to Hear From You! Reach out to us to suggest topics or find out about guest spots on the Soul D'licious Infused podcast. You can get ahold of us by sending an email to Podcast@THCProduction.com. Additionally, keep an eye out for our new segment, "Read Your Mind" where we read and answer your questions on the show!